Visitor Feedback for Resume4Free
We intend to make this site and the services we provide the best they can be. To reach that goal, we ask for your help with pinpointing problems or identifying improvements that we can make to our existing infrastructure.
Tell Us How We Are Doing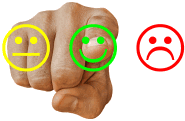 We also welcome suggestions for features that are important to building your career that we can implement in the future. You, as our visitor, will directly benefit from these improvements and upgrades when you use our programs. Our policy states that you
don't pay us
for our service. Any advancements we make to these programs will be a tremendous advantage to you when you are looking for employment.
If you are using one of our programs and you find you dislike something. If you see something confusing or if you can think of a better way to do something, we would like to hear about it. Many guests have written
testimonials
about how much they like what we have done here. If you would like to submit some feedback about Resume4Free, please take a minute to fill out the feedback form below. If you don't have time for that now, jump to the bottom of this page where you can leave a testimonial. In your own words, please tell others about how Resume4Free has helped you.
Some Quick Questions …
Please select a rating, with "5" being the best and "1" being the worst.