Free Resume Directory
Qualified employee candidates have posted their resumes online in our Free Resume Directory here at Resume4Free.com. Job seekers created these listings using our suite of free resume management tools. Our database of talented candidates can be searched by employers at no cost. There is also no cost to contact the candidates listed in our Free Resume Directory.
Directory Of Member's Resumes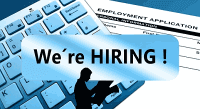 We have created this feature so our members have the opportunity to give their skills and abilities more exposure to hiring employers. Resume4Free does not ask for any fees to be paid by its members to create or post these resumes. Nor do we charge employers to search for the resumes in our Free Resume Directory. Employers do not have to join or become members to search for employees in this resume database. They can search at any time with no restrictions or requirements. Employers also do not have to pay any fees to receive the contact information of any potential candidates they find. They may readily contact candidates to offer them job interviews with no hindrance.
The members who created these resumes, then listed them in our Free Resume Directory did not have to pay any fees to create these resumes or to become members. Membership gives job seekers greater access to our sought after services such as this one, which they can obtain for
no cost or obligation
. This system is not a trial, but a fully functional, full-featured suite of resume management tools!
Members have the option to make a public or private resume. The public resumes listed in our directory do not display the member's house number, street, telephone number, or cellphone number. The member's email address is displayed, though in an obscured manner that is human reader-friendly, so an employer will be able to contact them with a job offer. The member's locale is displayed so employers can look for local talent. Search engines, such as Google and Yahoo, for example, also list this directory. That will give their skills that extra exposure to employers who are searching there too.
Please read about our
terms
for complete details. To obtain help with this system please visit our account help page, or for assistance with writing these documents visit our
career help
library. If you would like to post here, you will need to create your resume first, then create an account, in that order. Click
here
to begin!
Due to diminished user interest, we discontinued the online directory and member's portion of this system. Everyone used the creator program and not the directory. Or, they created an account and then it became dormant because they never came back to use it. The creator portion continues to function to create resumes just as has done for all these years. As it has always been a method of saving your information an edit-file will save your resume information instead of our database. You will export the edit-file to your device. Double-clicking this file will open a page for you to open your data into the creator program. From there you can edit your resume as needed. This export feature has been available since this system began. Please proceed to the
Free Resume Creator
to build your resume!
Categories
Accounting
Administration
Art/Design
Business
Construction
Education
Hospitality
Legal
Manufacturing
Medical
Miscellaneous
Retail
Services
Technology
Transportation