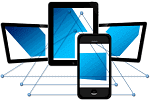 To be able to create and print your free reference page from anywhere in the world to help you get a job is a great resource. When you write your references page online using our Free Reference Page Creator, it will be easy to fill in the blanks. Afterward, let the program do the formatting for you. The Free References Page Creator is easy to use, so you will not need to learn how to use it. The ease of use the program provides and the automatic formatting feature make it simple to write your reference pages yourself.
The best part of this fill-in-the-blanks system is how simple it will be for you to create and edit your
resume
,
cover letter
, references page, networking
business cards
, and
interview thank-you letter
. Each document uses matching stationery with the same style, colors, and fonts. Click the image below to start writing!