Free Interview Thank You Letter Creator
Do you need help to write your interview thank you letter? You just left the interview, and all went well, but now you need to show your appreciation for the recruiter's time. It is proper business etiquette to send one of these letters within 24 hours after your meeting.
Create Your Free Interview Thank You Letter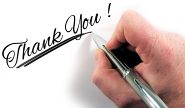 The problem is you don't know how to begin, that's not a problem, we will show you how to do it and give you letters to use in the process. Our Free Interview Thank-You Letter Creator is the answer to your dilemma. There is no need to waste your time researching what to write, how to structure, and format the letter or find the correct way to finish. Our creator contains built-in letter templates which you can modify very easily for your specific needs. We have done all the setup, formatting, and content creation. This setup will save you tremendous amounts of time as well as deliver a professional quality interview thank you letter you will be proud to send. Confidence in one's abilities is important, and our letter creator will give you the confidence to know that you sent the interviewer a professionally formatted letter. There won't be any room for worry because the thank you that you sent was a well-constructed document.
You are welcome to use our free Interview Thank-You Letter Creator every time you need to send a letter to a recruiter. You could even use the same one changing only that which is needed to fit each meeting. Rewriting what you already have will save you time and energy which you can use to focus on finding more job postings. You don't need to join anything; you don't need to pay anything, you can print your letter, export it, or send it. Pick from a large number of styles, many letter templates, colors, fonts, and logos, options of all kinds. All of this is free, of course. Please take an opportunity when it comes to you. Here it is, our
job interview
thank you letter creator is here to help! You will need other documents first to get you to this point, and we are here to help you with those too. Pick what you need from our menu on the right. If you also need help with building your career visit our
career help library
it is chock-full of top-quality articles.
Instructions:
On this page, you will choose a style for your job interview thank-you letter, click the radio button below the image to select your style. The style with the red border is your currently selected style. Did you come here from the Preview page of one of our other online creators? If you did your name, address, colors, font, and style will also have been sent here to facilitate the creation of your letter.